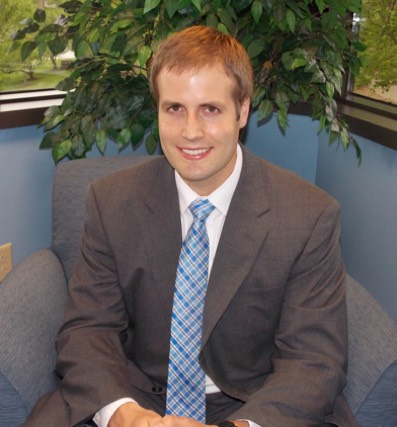 Resident Physician 2013-2016
Washington University Department of Ophthalmology
Transitional Year 2012-2013
Mercy Hospital – Saint Louis
Medical Student 2008-2012
Washington University School of Medicine
Bachelor of Engineering, 2004-2008
Biomedical Engineering and Electrical Engineering majors
with Chemistry minor
Vanderbilt University – Nashville, TN
Michael V. Stock, M.D.
A native of St. Louis, Dr. Stock graduated from St. Louis Priory School. He received his undergraduate degree from Vanderbilt University of Engineering double majoring in Biomedical and Electrical Engineering. Dr. Stock earned his Medical Degree from Washington University, completed his Internship at Mercy Hospital and residency in Ophthalmology at Washington University Department of Ophthalmology and Visual Sciences. During that time, he was honored to serve our veterans at John Cochran VA Hospital. He is now serving the greater St. Louis Community with the latest innovations in cataract surgery.
Dr. Stock is board eligible by the American Board of Ophthalmology, and is a member of the American Society of Cataract and Refractive Surgery, Missouri Society of Eye Physicians and Surgeons, and the St. Louis Ophthalmology Society. He has published several peer-reviewed papers in the ophthalmic literature with specific interest in cataract surgery outcomes. These studies have won several distinguished honors at National Meetings. He has co-authored a chapter in the Washington University Manual of Patient Safety and Quality Improvement. Dr. Stock has also been contributor to Cataract & Refractive Surgery Today, commenting on the results of some of the newest technology in cataract surgery.
Dr. Stock specializes in Advanced Cataract Care and is certified to perform femtosecond laser cataract surgery which can enhance outcomes through laser-precision automation. He offers Premium Lens Implants to reduce glasses dependence after cataract removal. He is also certified in the latest in minimally invasive glaucoma surgical procedures. In his spare time Dr. Stock enjoys basketball and golf, and spending time with his family.